Taikura Trust is first disability group in NZ to receive the Accessibility Tick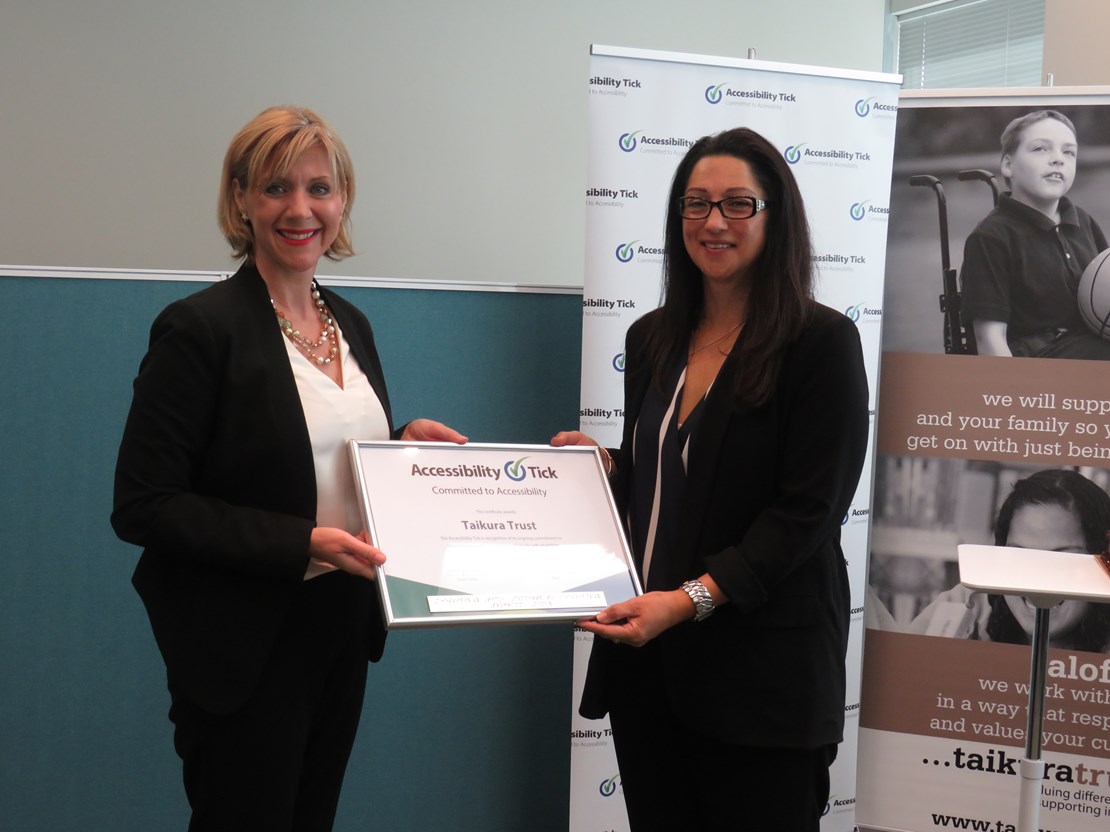 It feels special to be the first disability organisation in New Zealand to be awarded the Accessibility Tick for our commitment to be an inclusive organisation.
Our CEO Sonia Hawea says that inclusion and diversity are central values on which the organisation was founded, so receiving the Accessibility Tick is a recognition of where we came from.     
"When our founding members started Taikura Trust, they had a vision for an inclusive Aotearoa and they set a new standard in the disability sector – a governing partnership between disabled people, Mana Whenua and Pacific peoples. It set Taikura apart from the rest then, and it does now."
"It's also a reminder to ourselves that it was bold thinking and action that started the organisation and the same bold thinking and action will take us forward."
We worked with Access Advisors, a pan-disability initiative of the Royal New Zealand Foundation of the Blind, and custodians of the Accessibility Tick, for a comprehensive accessibility review on our policies, systems, physical workplace and services.
Accessibility Tick Programme Lead, Tanya Colvin, says "We are very excited to award the Accessibility Tick to Taikura Trust. They have demonstrated their commitment to improving accessibility and inclusion for its workers, clients and community."
"It was encouraging to learn that they have already made significant changes to their recruitment and selection processes; have undertaken a physical environment accessibility audit of their premises; and have rolled out unconscious bias training for their people. These measures will enable them to attract, welcome, support and retain diverse talent that includes people with access needs."
The systematic and deliberate infusion of diversity and inclusion across our operations, and in our engagement with people, complements our aspiration of becoming an employer of choice for people with lived experience of disability.
New Zealand has 228,000 disabled people of working age who are not employed; and 75% - that's over 170,000 people - want to work.
At Taikura, our objective is to increase economic independence for disabled people and their families because this enables choice and opportunities to contribute and participate in society. One way to support that objective is through meaningful and valued work.
Today, Taikura joins Vector, Auckland District Health Board, ACC, Ricoh, Adecco and Sudima Hotels as one of the first Accessibility Tick Holders and the first in the disability sector.
You can keep an eye out for our accessibility and inclusion journey on our website or follow us on LinkedIn. 
ENDS
About Taikura Trust
We are the gateway to information and funded disability support in Auckland, for people under 65 years old, living with physical, sensory, intellectual disabilities and Autism Spectrum Disorder (ASD).
We also provide services to people with accident-related disability who want to have more choice and control over where they go, what they do and where they live.