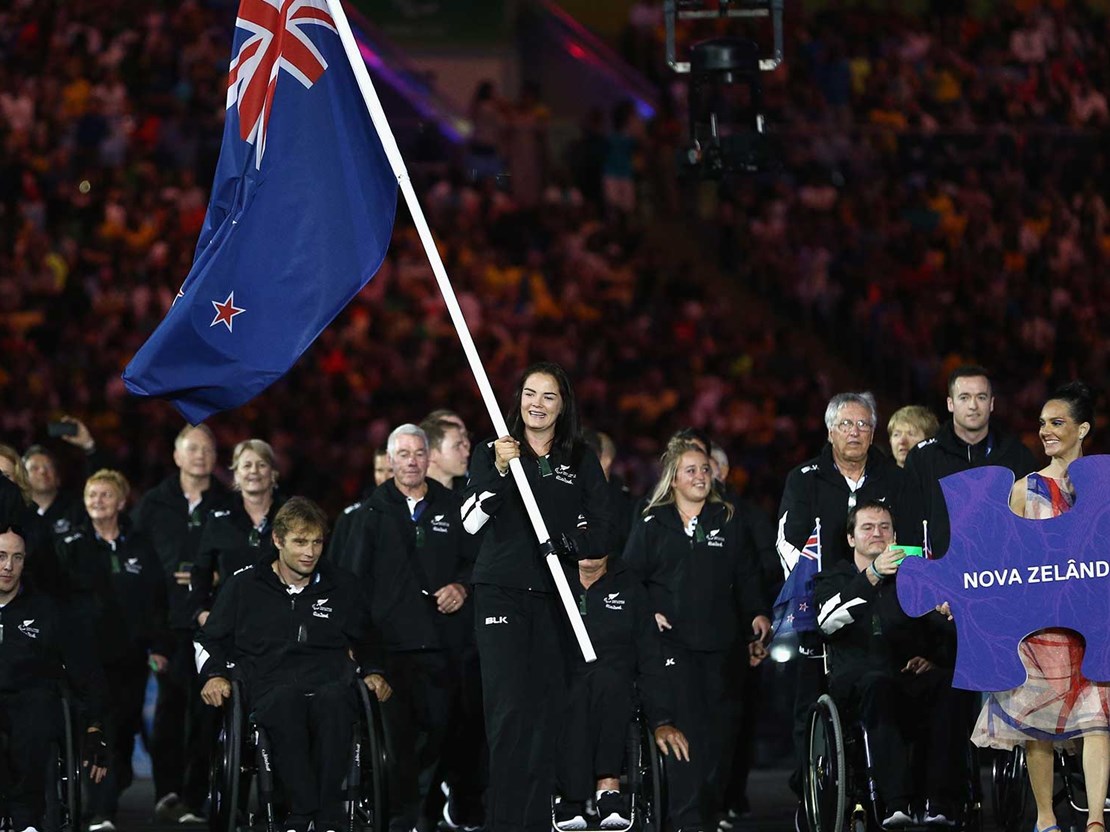 by Natalie Brunzel, Digital Communications Adviser, Taikura Trust
When I watched the London Paralympics in 2012 it awoke a curiosity for sport. I never dared to dream about going to the Paralympics, but I thought perhaps it might be time to look at ways in which I could be involved in a sport.
Growing up with a disability, it appeared the closest I would ever come to sport was being a spectator not a participant. Don't get me wrong I love watching sport. Every four years, when the Olympics and Paralympics come around, I become addicted to watching a large variety of sports.  It's not the sport itself or skill that draws me in but the athlete's pure determination and commitment to push their limits to achieve their goals. Therefore, I decided it is was time I challenged myself in this area and went out to find the sport that suited me.
It took a few years and failed attempts until finally in 2017, I found shooting. It wasn't love at first sight; guns aren't really my thing.  However, my passion was ignited when I saw the level of skill and mental stamina that the sport required. The dedication and encouragement from the club and coaches compelled me to push myself harder in this sport. By 2019, I was lucky enough to be competing at my first international competition. This event enabled me to shoot a qualifying score to enter the World Championships in October 2019.
It was such an honour being able to put on the New Zealand fern and represent our country. At the World Championships, they had a new event where mixed teams could compete. This meant I was able to team up with NZ Paralympian shooter, Michael Johnson. Together we won the bronze medal. There is nothing that prepares you for the moment the New Zealand flag is raised to mark your achievements. In many ways, it was mind blowing to think that a person who had sat on the sidelines of sport all her life was being recognized on the world stage.
Even when the Covid19 pandemic hit and all of us athletes were unable to compete and train for extended periods of time, the passion for the sport didn't subside. The moment we were able to go back to training we all did. We spent hours tinkering with our equipment and technique. Then suddenly, it was announced that we had one more opportunity to compete and win a slot to participate in the Tokyo Paralympics. The event had been postponed in May 2020 and was now happening in June 2021. The next blow came when Paralympics New Zealand advised that they felt it was too dangerous for athletes to go to Lima, Peru for the competition. However, they offered an option of competing in five selection events. If we managed to hit our qualifying score set by PNZ then we would be put forward for bipartite slot.
There were two of us competing for slots, however, it was great to see the wider club become involved and participate in the competitions. It kept us on our toes, ensured we brought our 'A-game' to every event. Both of us managed to reach the required score in our respective events. When we were called in to sit on meetings preparing us for Tokyo, it all was becoming extremely real. The final moment of realisation came when I was being fitted for the uniform. We had organised flights, MIQ slots and Paralympics New Zealand selected us to the team pending a slot being granted to New Zealand.
Then the unthinkable happened. We were thwarted at the final hurdle. New Zealand wasn't granted a slot for either of us to compete. 41 days out from the Paralympics starting, the dream had ended abruptly. The mental stamina was certainly tested throughout this rollercoaster ride.
Many people reading this and will be thinking of all the controversy surrounding the Tokyo Olympics and Paralympics. However, for us athletes it is an opportunity to compete against the best in the world.  We spend hours and push through the pain, frustration, insecurities, and tears to be able to be the best. So, whatever your thoughts are about whether the games should be taking place or not, for the athletes competing it's about pushing their resilience to the limits that compels them to attend and the pandemic is just another hurdle to overcome to achieve greatness.
The disappointment is eased by the knowledge of the journey not being over. Perhaps you may see me competing in the Paris Paralympics 2024.
ENDS
Published 28 July 2021